DIVING FIRST AID FLOWCHART PROMOTIONAL OFFER
/
DIVING FIRST AID FLOWCHART PROMOTIONAL OFFER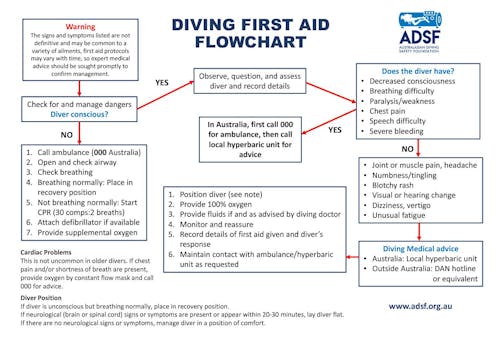 There is a broad range of injuries and illnesses that a diver may suffer from, many relatively minor but some potentially fatal. Some of these are directly related to diving itself, while other may be incidental. In any case, prompt first aid, emergency assistance and diving medical advice is often required to minimise the impact. 
The ADSF has produced a "Diving First Aid Flowchart" which is printed (both sides) on a waterproof slate so it can on the boat, in the dive bag, or even in a BCD pocket. The rear contains important contact numbers and emergency information, as well as marine animal envenomation advice.
If you want to obtain a free copy, please download and complete the Request Form and email to johnl@adsf.org.au.
Please note the free offer is only valid in Australia and New Zealand.
Safe diving from
Dr John Lippmann OAM
Chairman & CEO and the ADSF Board