The Diving Emergency Handbook Free Offer
/
The Diving Emergency Handbook Free Offer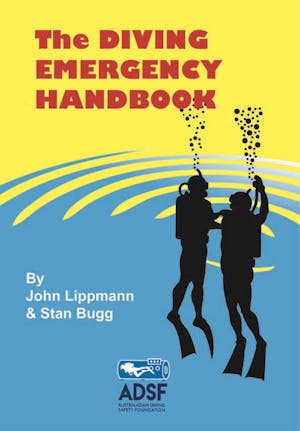 There is a broad range of injuries and illnesses that a diver may suffer from. Some of these are directly related to diving itself, while other may be incidental. However, in any case, prompt first aid and diving medical advice is often required to minimise the impact.
It is important that divers improve their knowledge and understanding of the recognition and first aid management of diving-related injuries, and the Diving Emergency Handbook was first created 27 years ago to assist with this. It has been updated periodically to deal with changes in knowledge and practices and is the most widely distributed diving first aid manual in the Asia-Pacific region. There have also been editions published in the USA, UK, Germany, Holland, Japan, Italy, South Africa, China and Korea. Many of the editions were published as The DAN Emergency Handbook. 
The authors have just updated and prepared an 8th edition which the Australasian Diving Safety Foundation (ADSF) has published and is distributing free of charge, consistent with its mission to improve diving safety and reduce the incidence of diving-related illness, injuries and deaths. 
If you want to obtain copies, please download complete the Request Form and email to johnl@adsf.org.au.
Please note the free offer is only valid in Australia and New Zealand.
Safe diving,
Dr John Lippmann (Chairman and CEO)
and the rest the ADSF board